Articles

Churchill, the Jews and Israel – Part 1
By RONALD I. COHEN
| September 28, 2016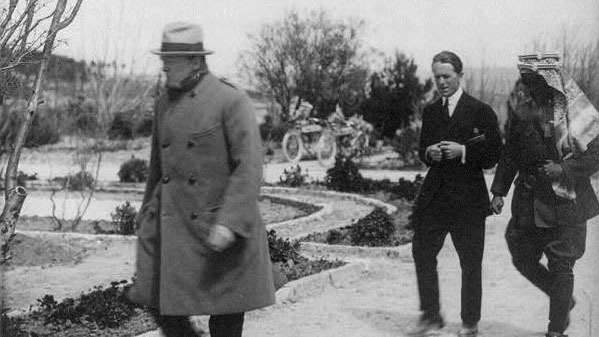 This account is dedicated to the memory of Elie Wiesel (1928-2016): a Churchillian among men, who never gave in, and left the world better than he found it. —RIC
Ambassador Barak, Miriam Barak, ladies and gentlemen, good evening. What a splendid and generous opportunity you have provided the Churchill Society of Ottawa to enable us to consider the relationship between the Greatest Briton of all time1 (and, arguably, the greatest leader of the past century) and the Jews, which ultimately led to the State of Israel, the miracle of the Middle East.
Mid-June in Churchill's Life
This week in June has been historically significant in Churchill's story. On this very date in 1900, his fourth book, London to Ladysmith,2 was published. (The author was 25 years old.) On 14 June 1940, Paris surrendered. On 10 June 1944, four days after D-Day, Churchill landed on the Normandy beaches, and three days later the first buzz bombs, the V-1s, began their assault on London. On 15 June 1945, an election was called to put an end to the long prewar Parliament (elected in 1935)—and, with the results in July, the end of Churchill's premiership.
But I want to draw your attention to a less well-known June happening in this week, quite relevant to us this evening. On 12 June 1929, Anne Frank was born in Frankfurt. She and her family, sensing danger, decamped to the Netherlands in 1933. There, two years after the German occupation of Holland in 1940, her father Otto began the construction of the "secret annex" that was to be their home until they were betrayed in August 1944.3
As Anne's secret diary later revealed,4 Churchill's inspirational broadcasts were sustenance to the hidden Frank and Van Pels families. On 27 March 1944, for example, she wrote, "It gets so boring, and it's quite a job not to become a dull old stick oneself….I must mention one shining exception—a speech by our beloved Winston Churchill is quite perfect." Anne was not alone. When my friend and Churchill colleague, Richard Langworth, was leading a Churchill tour in 1985 with Lady Soames, a Belgian lady, Ria de Vries, who was Anne's age in occupied Belgium, "grasped Lady Soames's arm and told her how much those broadcasts had meant to people hiding in cellars gathered around surreptitious radios. It was," he said to me, "very moving."
Churchill sustained the British and the Dominions, indeed the Allies in general, as well as the Belgians, the Dutch and all of occupied Europe, by his determination to carry on, if necessary, as he said, "Alone." His speeches, broadcasts and his example inspired and bred hope in worried peoples. But I am getting ahead of myself.
So let me begin by reminding you that, while Churchill's path to greatness was not smooth or faultless—far from it—his influence and importance were substantial and enduring, as was his confidence from earliest days. He believed in his star. As he said to Prime Minister Asquith's daughter, Violet Bonham Carter, on their first meeting (at a dinner), in 1906, "We are all worms. But I do believe that I am a glow-worm."5
He saw a great future for himself, and he was not alone in that view. In April 1905, during Churchill's first term as an MP, in a work comprising twenty-six pieces by politicians with a future, entitled, appropriately, Coming Men on Coming Questions,6 the editor observed that Churchill merited primacy. "Hence I put him down Coming Man, No. 1…His present is exciting. His future is more brilliant in its prospect than that of any other man."
In the very first full-length biography of Churchill, also published in 1905,7 MacCallum Scott wrote on page one that "already he has won for himself a foremost place among the politicians of the day. … [T]here be discerning men who predict that he will make history for the nation. The youth of thirty is confidently spoken of by his admirers as a future Prime Minister." In 1905. And he was not yet a Cabinet Minister.
What is quite remarkable in all of this is that Churchill's admiration of the Jews and immense support for a Jewish homeland began at a time and place where one would never have anticipated such a commitment. He was an aristocrat. Jews were a very small part of the British population – about 7/10ths of 1%. Jews had only become entitled to sit in the British House of Commons in 1858, just sixteen years before Churchill was born. Even the great Benjamin Disraeli, born Jewish, became an Anglican before being elected to the House of Commons in 1837. Had he not converted, he would have been ineligible to become a Member of Parliament, much less prime minister.
Insofar as Churchill was concerned, though, there was nothing structural that stood between him and the Jews—only social obstacles. But his close family was supportive of the connection. His best role model was his aristocratic father, Lord Randolph Churchill, who was reputed (to his detriment) to have many Jewish friends. Indeed, some of Lord Randolph's clubby colleagues chided him for having only Jewish friends. On one occasion, when he was a visitor at an English country home, he was greeted by another guest who challenged him: "What, Lord Randolph, you've not brought your Jewish friends?" Lord Randolph bitingly retorted, "No, I did not think they would be very amused by the company."8
Not all members of the Churchill family felt the same way. When the Daily Telegraph reviewed young Winston's biography of his father (published in January 1906) negatively—and the subject of the biography very badly—Churchill's cousin, the 9th Duke of Marlborough, wrote to Churchill to say that he was planning "to administer a good and sound trouncing to that dirty little Hebrew."9 He did write the Telegraph, which apologized, and the Duke wrote again to Churchill about the entitlement of "Jews to say members of my family are dishonorable." Churchill did not take the bait—he sensibly avoided replying.
"Even Winston had a Fault"
In any case, it was on 12 September 1969, sixty-one years to the day after Winston's marriage to Clementine, that Martin Gilbert, then 32, interviewed Louis Spears. Gilbert had just been appointed Sir Winston's official biographer; Spears was an old Churchill friend, a fellow soldier, historian and Parliamentarian.
Discussing Gilbert's coming responsibilities as Churchill's biographer, Spears urged the young man to "paint a true portrait, warts and all, of the Great Man." Once General Spears felt confident that Gilbert would approach his subject that way, he candidly advised Gilbert that "Even Winston had a fault. He was too fond of Jews." It is to this fondness, this dedication, this commitment that I now want to turn.
The Historical Thread
This long story begins with Churchill's representation of the Manchester area in Parliament from 1900 to 1908. Socially, through his family, he had earlier known important British Jews, such as Nathaniel "Natty" Rothschild (in 1885 the first Jewish member of the House of Lords), Baron Maurice de Hirsch, and the banker Sir Ernest Cassel, who was of immense help guiding Churchill's financial affairs in the early years. But it was in Manchester that he made the acquaintance of such major Jewish constituents as Nathan Laski, Joseph Dulberg, and Chaim Weizmann. Churchill was originally a Conservative Member for Oldham, a suburb of Manchester. In 1906 he ran as a Liberal for a neighbouring seat, North-West Manchester. Overall, one-third of the Manchester community voters were Jewish.
Churchill's first community-related political involvement with the Jews arose in Manchester, when he was called upon to respond to the Aliens Bill proposed by the Conservative Government. In May 1904, he wrote a strong letter of objection to the Aliens Bill which he addressed to Jewish community leader Nathan Laski. It was published in the Manchester Guardian, The Times and the Jewish Chronicle. In that letter he characterized the Bill as a trumped-up attempt "to appeal to insular prejudice against foreigners, to racial prejudice against Jews, and to labour prejudice against competition."10 He cynically observed, "it will no doubt supply a variety of rhetorical phrases for the approaching election," which ultimately took place in 1906.
As Churchill observed to Laski, "To judge by the talk there has been, one would have imagined we were being overrun by the swarming invasion and 'ousted' from our island through neglect of precautions which every foreign nation has adopted."11 In fact, of the 32.5 million British population (1901 census), all its aliens amounted to only a 1/140th part, and alien immigration (for which read Jews, primarily from Russia) amounted to about 7000 per year. Churchill's forceful letter hit its mark.
On the very day of the letter's appearance, 31 May 1904, Churchill crossed the floor from the Conservative benches to sit as a Liberal. And in dealing with the Aliens Bill itself at Committee stage, Churchill and his three Liberal colleagues studying the Bill so delayed progress by their detailed questions that, by the seventh day, only three lines of a single clause had been reviewed. Churchill prevailed. In the end, the Bill did not pass, and Laski wrote Churchill to say that the young politician had earned the gratitude of the Jewish community of Manchester, if not the entire country.
The Welsh Pogrom
In 1910, Churchill became Home Secretary, only to encounter, eighteen months later, the consequences associated with the settling of the railway workers' grievances by agreeing to arbitration. The first of three days' rebellion occurred at Tredegar in South Wales, during what has been described as the only pogrom ever in England. When police cordons failed to quell the rioting and accompanying attacks on Jews, Jewish homes and places of business, Churchill, in collaboration with Secretary of War Richard Haldane, called in the military to ensure that the anti-Jewish violence ended. The good news was that no Jews were killed or seriously injured, and that the Jewish community in South Wales had been protected by Churchill's actions and directives.
The Balfour Declaration
The linch-pin of the story of Churchill and the Jews, as well, of course, as the State of Israel, is, however, the Balfour Declaration: sixty-seven words that may be said to have altered the course of Mideast history. On 2 November 1917, former Prime Minister A.J. Balfour, then Foreign Secretary in Lloyd George's coalition government, sent a letter to Lord Rothschild which has been known ever since as the Balfour Declaration.12 That brief letter read in the second, and the most important of its three sentences:
His Majesty's Government view with favour the establishment in Palestine of a national home for the Jewish people, and will use their best endeavours to facilitate the achievement of this object, it being clearly understood that nothing shall be done which may prejudice the civil and religious rights of existing non-Jewish communities in Palestine, or the rights and political status enjoyed by Jews in any other country.
What is not often quoted are the additional introductory words in the first sentence:
Dear Lord Rothschild,
I have much pleasure in conveying to you, on behalf of His Majesty's Government, the following declaration of sympathy with Jewish Zionist aspirations which has been submitted to, and approved by, the Cabinet.
The warmth of the language "I have much pleasure", "declaration of sympathy" and "Jewish Zionist aspirations" is never mentioned or noted while, in my view, it should also be acknowledged.
It is on the basis of that short document that much of the Israeli story is based. And, although he was not the author of that declaration, there was no more constant, committed, unwavering supporter of it than Winston Leonard Spencer Churchill. Nor should it be forgotten that, almost ten years earlier, Churchill had issued his own message —on 30 January 1908—to a public meeting of the English Zionist Federation:13
I am in full sympathy with the historical traditional aspirations of the Jews. The restoration to them of a centre of true racial and political integrity would be a tremendous event in the history of the world.
"Zionism versus Bolshevism"
In 1920, a controversial article by Churchill—still quoted today, particularly by his critics—appeared with the title "Zionism versus Bolshevism."14 The opening sentence (to which the critics do not refer) read: "Some people like Jews and some do not; but no thoughtful man can doubt the fact that they are beyond all question the most formidable and the most remarkable race which has ever appeared in the world." Churchill did note later in the article the prominent role played by some "terrorist Jews" in the creation of Bolshevism, but he stated clearly that the Bolshevik movement "is repudiated vehemently by the great mass of the Jewish race [emphasis mine]." And this helped underscore the need for a Jewish National Home. In that article, under the heading "A Home for the Jews", Churchill stated strongly,
But if, as may well happen, there should be created in our own lifetime by the banks of the Jordan a Jewish State under the protection of the British Crown, which might comprise three or four millions of Jews, an event would have occurred in the history of the world which would, from every point of view, be beneficial, and would be especially in harmony with the truest interests of the British Empire.
And he concluded that important article by underscoring the importance of
building up with the utmost possible rapidity a Jewish national centre in Palestine which may become not only a refuge to the oppressed from the unhappy lands of Central Europe, but which will also be a symbol of Jewish unity and the temple of Jewish glory.
Colonial Office
On 1 January 1921, Prime Minister David Lloyd George offered Churchill the Cabinet post of Secretary of State for the Colonies, with special responsibility for the two British mandates of Mesopotamia and Palestine. Churchill took up his duties six weeks later. Typically wasting no time, he left for Egypt a scant two weeks afterward. On that trip, he landed in Alexandria, and visited Cairo, Gaza and Jerusalem.
When Churchill arrived in Gaza on March 24th, he was met with "a tremendous reception by a howling mob," shouting "Cheers for the Minister" in Arabic; however, the crowd was also screaming "Down with the Jews" and "Cut their throats" in Arabic, which Churchill and Sir Herbert Samuel did not understand. Their travelling companion, Colonel Lawrence—Lawrence of Arabia—did, of course, but he didn't let on.15
On March 30th, the Colonial Secretary received representations from the Executive Committee of the Haifa Congress of Palestinian Arabs, who made five specific requests, including the abolition of the idea of a National Home for the Jews. Churchill's reply was quick, strong and unequivocal:16
You have asked me in the first place to repudiate the Balfour Declaration and to veto immigration of Jews into Palestine. It is not in my power to do so nor, if it were in my power, would it be my wish.
A Jewish deputation followed the Palestinian Arabs. To them Churchill affirmed:
I am myself perfectly convinced that the cause of Zionism is one which carries with it much that is good for the whole world, and not only for the Jewish people …
Defending the Balfour Declaration, 1922
Still, all was not well. The next critical moment occurred just over a year later when the House of Lords voted against the Balfour Declaration 60 to 29, declaring that the Palestine Mandate was unacceptable, being "opposed to the sentiments and wishes of the great majority of the people of Palestine." It warned that the Jordan River power plan, proposed by the industrialist Pinhas Rutenberg, would provide the Jewish minority with wide, and therefore unacceptable, powers over the Arab majority.
In many respects, this may have been one of the most important moments in the whole backdrop to the development and acceptance of the creation of a Jewish National Home. In the end, it took a commanding address from Churchill, in the Commons on 4 July 1922, to overturn the vote in the House of Lords. Here he strongly defended the Balfour Declaration, saying, among other things,
I say, in all consistency and reasonable fair play, that does not justify the House of Commons at this stage in repudiating the general Zionist policy….I appeal to the House of Commons…to stand faithfully to the undertakings which have been given in the name of Britain, and interpret in an honourable and earnest way the promise that Britain will do her best to fulfil her undertakings to the Zionists.17
That speech was of such importance that it was separately published by Keren Hajessod, the fund-raising arm of the Zionist movement, in Berlin in 1922.18 I can tell you that this is the only separately published appearance of the speech I have ever found, and I only located it by happenstance at the Sha'ar Zion Municipal Library, Beit Ariella, in Tel Aviv. Even Sir Martin Gilbert marvelled at its existence when I told him about it.
On the important related issue of Pinhas Rutenberg, Churchill said, consistently with his unalterable beliefs, "He is a Jew. I cannot deny that. I do not see why that should be a cause of reproach."19 Churchill's crucial speech led to a vote of 292-35 in favour of the Palestine policy, reversing the vote in the House of Lords. The principles of the Mandate were incorporated in what came to be known as the Churchill White Paper, which was ultimately submitted to the League of Nations, where it was approved on July 22nd.
It is hard to disagree with Sir Martin Gilbert's assessment that, if Churchill had done nothing else in aid of the Jews and their National Home in his entire life, this speech of 4 July 1922 was the critical deliverable. With it, he convinced the House of Commons of the idealistic bona fides of the Zionist project and its non-profit-driven approach. Pragmatically speaking, he drove the House to overturn the anti-Balfour Declaration of the House of Lords, thereby preserving the British commitment to a Jewish National Home.
That is not to say that there were not further challenges and later attempts to chip away at aspects of the Declaration. Rather, this was the Titanic-meets-iceberg moment that could have destroyed the project once and for all.
In October 1922, in his last electoral contest as a Liberal, Churchill was finally beaten in Dundee, where he had sat since 1908, by—can you imagine this?—a Temperance candidate whom he had defeated in the previous five elections.
On top of everything else in that campaign, Churchill was stricken by appendicitis just days before the vote and, in the wink of an eye, he found himself "without an office, without a seat, without a party and without an appendix." He lost twice more in other ridings in 1923 and 1924, until he was returned to Parliament on October 29th as a Conservative MP from Epping, where he remained for the rest of his Parliamentary life.
Featured Image: Churchill, Lawrence of Arabia, and Emir Abdullah visiting Zionist irrigation project, Jerusalem, March 1921. (Reuters)
__________
Footnotes
1 As voted in a nationwide BBC poll announced on 24 November 2002.
2 London to Ladysmith via Pretoria (London: Longmans, 1900).
3 Anne and her sister Margot perished in Bergen-Belsen in 1945. Of the family, only Otto Frank survived the war.
4 The diary, discovered by Miep Gies, who gave it to Otto Frank after the war, was first published as Het Achterhuis (Amsterdam: Contact Publishing, 1947). The English edition was Anne Frank: The Diary of a Young Girl (New York, Doubleday; London: Valentine Mitchell, 1952).
5 Violet Bonham-Carter, Winston Churchill as I Knew Him (London: Eyre & Spottiswoode, 1965), 16.
6 Review of Reviews, London, 1905.
7 MacCallum Scott, Winston Spencer Churchill (London: Methuen, 1905).
8 This story and much material in this address are sourced in the invaluable work by Sir Martin Gilbert, Churchill and the Jews (New York: Henry Holt, 2007); this story at page 1.
9 Referring to Harry Levy-Lawson, the manager of the newspaper; Gilbert, 13.
10 "The Aliens Bill: A Trenchant Letter from Mr. Churchill," Manchester Guardian, 31 May, 1904, 5.
11 Gilbert, 7-8.
12 The full Declaration in facsimile is at http://bit.ly/291vgJD.
13 In the form of a letter to Rabbi Dr. Moses Gaster, Gilbert, 17-18.
14 First published in the Illustrated Sunday Herald, 8 February 1920, 5, and subsequently in the Conspiracy Digest, Spring 1980, 1-2. It is also collected in the Collected Essays of Sir Winston Churchill, 4 vols. (London: Library of Imperial History, 1975), IV 26-30.
15 Gilbert, 52-53.
16 Ibid., 59.
17 Hansard, §§ 332-3, quoted in part in Gilbert, 79.
18 Britische Politik in Palästina: Rede des Kolonialministers Winston Churchill im englischen Unterhause am 4. Juli 1922 (Berlin: Herausgegeben vom Keren Hajessod [Jüd. Palästinawerk], 1922).
19 Gilbert, 82.
Author's note
Ronald I. Cohen MBE, is the author of Bibliography of the Writings of Sir Winston Churchill (2006) and the editor of The Heroic Memory: The memorial addresses to the Rt. Hon. Sir Winston S. Churchill Society, 1990-2014 (2016). The Bibliography won the Farrow Award for excellence in Churchill Studies in 2012. In 2014, Cohen was made a Member of the Most Excellent Order of the British Empire for services to British history. The co-founder and president of the Sir Winston Churchill Society of Ottawa, Mr. Cohen writes and speaks regularly about Churchill.
Churchill Project Articles
Stay In Touch With Us
Subscribe now and receive weekly newsletters with educational materials, new courses, interesting posts, popular books, and much more!